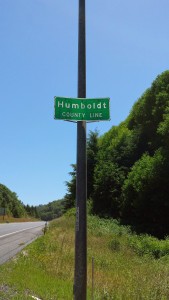 The beginning of our journey involves a return home for both Milton and I. Although we have both spent the past 10 years in the Tacoma, Washington area and we consider it home in many ways; in our hearts, home for us is, and always will be, Humboldt County in Northern California. Milton had family ties to the southern Humboldt area and my family has ties to northern part of the county. For those unfamiliar with Humboldt County, it is a rural county approximately 200 miles north of San Francisco, California along the Pacific Coast. We are fortunate to have beautiful rugged coastlines and lush green awe-inspiring redwood forests right in our own back yard. For a long time, while in Washington, my favorite saying was "Humboldt was a great place to be from but I wouldn't want to live there". But after only a few years on living in Washington it was brought to my attention that the area was still a huge part of me.
A few years into our transition to a more urban area, our friend Jewel came up to visit and I remember her walking out into our backyard, laughing and she said, "You can take the girl out of Humboldt but you can't take Humboldt out of the girl" and I have found this to be so true. As much as I loved Tacoma and loved, loved, loved the wonderful amazing people that I met (they definitely left their footprints on my heart); there is something about home that just can't be replaced by a geographical relocation.
I was born and raised in Humboldt and Milton moved to Southern Humboldt as a young boy with his parents in the early 70's. The area is diverse, beautiful, and rugged with a strong alternative vibe to the entire county. Besides the redwood forests and rocky ocean coastlines, we have an abundance of organic food markets, and music that just makes you want to get up and dance. Maybe it's the community radio stations here like KMUD that play a wide mixture of music but seems heavily leaning toward folk, blues, bluegrass, and reggae all of which I love, or maybe it's just the number of concerts and festivals that we have here that seem to be in abundance for such a rural area. And speaking of festivals, Humboldt is also home of Reggae of the River (www.ReggaeOnTheRiver.com) which has been going on since 1983 and is a huge three day reggae music festival just 15 miles from where we live. And then there is the local music and arts scene which, for such a small area, it's packed with stuff to do from the local musicians playing at restaurants to the community benefit events which always seems to be centered around arts, music, and dancing.
If you're a person with even a little bit of free spirit in your soul then Humboldt is definitely a place you'll want to experience. It has the ability to weave its way into your heart and soul that it becomes a part of who you are and becomes the standard by which you judge every other place. Life is a slower pace in Humboldt. And in southern Humboldt, where a one room cabin will be home until we leave on our journey, well………it's more than just a little bit alternative.