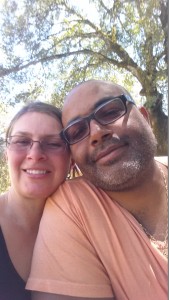 Katherine is a nurse by trade (Certified Wound Ostomy Nurse) who recently quit her job to go on what is hopefully to be the first of many overland motorcycle adventures. Her previous non-motorcycle related adventures, and greatest accomplishments to date beside surviving nursing school, revolved around raising three great kids, being with the same man for over 27 years, 23 years clean and still active in a 12 step fellowship, and after years of hard work to get out of debt, now living a debt free life.
Her first involvement with riding was on a Vespa scooter that her parents got as a graduation present. Unfortunately this was sold to pay for one of many vehicle related accidents due to addiction. After spending some time on the back of her husband's bike, she took a basic rider course and she's been off and riding ever since. Her first bike was a BMW R1150R. She now rides a BMW R1200RT and a KLR 650.
She and her husband, Milton, recently sold their home in Tacoma, Washington and moved back to Humboldt County where the little town of Redway, in Southern Humboldt, will be their home base for the next phase of their life. She is currently living in a one room cabin with her husband Milton and their motodawg Jackie.
Milton became a real estate agent, after spending years working in the construction trades, who also recently quit his job to go with Katherine, because he can't let her have all the fun. His greatest accomplishment has been that he's been with the same beautiful amazing woman for the past 27 years and their adventures together have always turned out better than imagined.
He's been riding for most of his life and will be riding a KLR 650 on this adventure. He also currently is living in that same one room cabin in Southern Humboldt but will soon be living on the road with no particular place to go and no timeline to get there.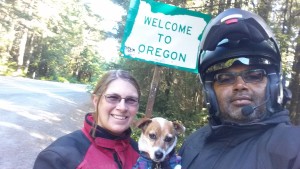 Their good friend Dennis Hyde will be joining them on this adventure.  He usually takes up the rear cause he says he needs to pick up the things that fall off of their bikes, like Jackie dawg.  He spent a good portion of his life living in Tacoma doing construction.  He and his family (mom Kay, daughter Amber, and grandchildren Kat and Tristen)  have become just like family to us and are in complete support of him going on this adventure with us.  Are they crazy or what?? Dennis' new motto is sidetracked at sixty, in fact he can be reached, at [email protected].  He also will be riding a KLR 650 on this adventure.
Update: after two months on the road Dennis made the decision to return back to the states so Milton and I will continue on the journey by ourselves.  It was a bittersweet turning point of us all but it was a necessary thing and although we are all sad that things have turned out this way, Milton and I are looking forward to the new adventures to come.